Industrial welding power sources
With many years of experience in welding technology, our team develops, engineers and produces customized welding power sources. Producing our own hardware and software allows for a faster turnaround time to customer requests.
Aixcon welding power sources of the PWU series can be found in all areas of industry. Power sources housed in a standard cabinet experience optimal operating conditions through air conditioning and water cooling. Modern, economical and extremely robust power units guarantee reliability and durability even in continuous operation.
PWU View
The Aixcon "View" is the link between process handling and performance parts. The touch screen monitor visualizes the welding parameters required for the process. Features can be activated or invoked efficiently.
Features include:
Speed-dependent parameter adjustment
Limit monitoring
Data-logger with recorder
History view
Automatic electrode tracking
Axis movement
Cold or hot wire feed
Arc length regulation
Oscillation of the arc
and much more.
With View, you can save your welding profiles with all relevant parameters. Your measurement data and images are automatically stored. The ability to connect to your corporate network provides unrestricted access to all stored data. Software updates or remote access is also possible via the ethernet interface. Maintenance or necessary service calls can be planned in detail and carried out seamlessly.
Aixcon welding systems are equipped with self-developed, in-house produced power units and control units, and can be adapted specifically to your welding process.
Reliability is guaranteed even under the toughest conditions in the industry, including tropical climates.
Automation
Customized semi-automatic or fully automated welding equipment is a specialty of Aixcon.
Optimum adaptation to customer-specific requirements
High quality linear systems
All drives use brushless servo technology
Simple programming
Torches
Multi-cathode Torches
Aixcon's multi-cathode torch adheres to the latest research findings and can be used interchangeably with various systems.
Depending on the application, the torch can be adapted to different welding processes, such as TIG or plasma. As for options, the torch can be equipped with multi-gas systems, arc deflection, camera systems and/or an HKS thermal profile scanner (see Sensors).
Aixcon has many years of experience in the application of multi-cathode welding, is involved in many innovations and can provide optimal support and expertise.
Sensors
Camera System
Aixcon has developed a camera system specially designed for arc observation.
The display is either integrated in the process control system or as a stand-alone solution.
The camera system also includes helper functions that are helpful for edge detection. The Aixcon camera system provides support in overall monitoring and in welding seam observation, and gives the operator an overview into the current weld.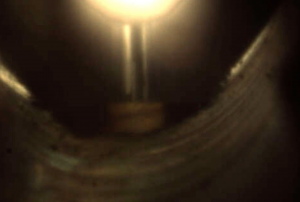 HKS – Thermo Profile Scanner
Task
Detection of visible and invisible weld irregularities such as pores, flank bonding defects, asymmetrical penetration, insufficient root penetration welding and torch misalignments.
---
Application Data TPS
Caster to torch: 20 mm
Sampling: 100 Hz
Resolution: 0,9 mm
Working distance: 80 mm
Gas flushing inert gas: 3 l/min
Welding speed: up to 1,5 m/min
Water cooling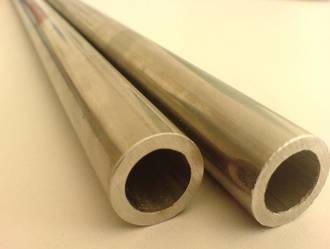 ---
Error: Incorrect Torch Position
Offset of the torch across the pipe (seam symmetry)
CrNi – Pipe 20*3 mm
A non-central torch position leads to an asymmetrical penetration.
One flank is melted more thoroughly than the other.
Barely visible to the naked eye, but clearly visible in the thermal image of the TPS.
---
Processes
Tungsten Inert Gas Welding (TIG) DC
This system is set with copper or aluminum inside of a cable sheath. The power unit is equipped with a 400 ampere or 600 ampere power unit. The gas control is equipped with two mass flow controllers for argon and helium. The gas mixture is optimally adapted to the welding process's corresponding material and speed. In addition to the protective gases, important process parameters such as welding current, pulse frequency, pulse symmetry, etc. can also be automatically adjusted. With this configuration, speeds of more than 100 m / min for copper and up to 50 m / min for aluminum can be achieved with good material quality and appropriate deformation. Weldable material thicknesses are between 0.15 and 1.2 mm.
Tungsten Inert Gas Welding (TIG) AC
The PWU 400 ACDC is specially adapted to meet the requirements of the multi-layer composite pipe industry. The highly dynamic, water-cooled power unit is housed in an air-conditioned control cabinet. A dust-free, dry operating environment ensures very high reliability. The generously-sized AC power section creates enormous power reserves to meet the stringent requirements of continuous production.
Aluminum alloys (such as aluminum alloy 1050/1200/3003/3103/8006/8011), which are used in the multilayer composite pipe industry, can react to a wide variety of curve shapes and shift the symmetries along the time and current axes. The gas control and gas mixture, like all other important parameters, are freely adjustable and can be stored for future use. A speed-dependent parameter adjustment can be activated, which allows the operator to dedicate time to other important processes.
AC frequencies up to 1000 Hz focus and center the arc. The continuous process voltage combined with limit value monitoring greatly increases the process window, and thus ensures that the requisite production safety guidelines are met.
Plasma
The high-focused energy in the plasma arc causes a narrow and deep weld.
You want to weld a base material for which you do not get any additional wire.
You cannot use a similarMulti-cathode welding filler wire because it changes its base material too much.
Metallurgical and mechanical values ​​do not give the strength demanded.
For pipelines that have to withstand high temperatures and high pressures, the root position is of extreme importance. Minor metallurgical changes in the structure can lead to bursting.
Multi-cathode welding
Aixcon offers a modular system combining 2 or 3 power units with 200 A, 400 A, 600 A or 1000 A and multi-cathode systems with up to 4 burners. The gas control usually includes 2 or 3 mass flow controllers as well as other manual gas adjusters. Optionally, up to 8 gases can be regulated via mass flow controls. By combining it with a pilot power section, system configurations such as TIG plasma TIG or similar are possible.