Industrial Microwaves
Aixcon PowerSystems GmbH produces microwave generators for both high-end and simple applications. For many years, the products of the microwave Y generation set new standards for highly precise, dynamic processes.
The new generation of Y-generators has been completely reworked for even greater precision and efficiency. Overall, the new generation delivers with its simple and fast setup, wealth of customizable interfaces (Analog, Profinet, others on request), and is available in both air- and water-cooled versions. The new microwave generation is ideally suited for clean room applications.
The new intelligent control unit significantly increases the life of the magnetron.
It is possible to pulse the microwave to cover any application.
Accesories
Magnetrons
Hohlleiter
Launcher
Lasten
Autotuner
manuelle Tuner
etc.
Performance classes
1,25 kW
2,00 kW
3,00 kW
6,00 kW
Höhere Leistungen auf Anfrage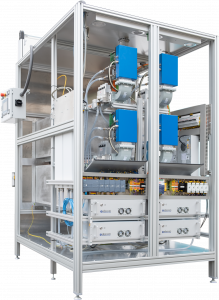 Aixcon PowerSystems also supplies magnetrons, waveguides, launchers, loads, automatic and manual tuners as well as many other products. Contact us.
Good to know
The Y-2000 generators for the Novellus / Garsonic PEP 3510+ (PEP Plus 3510 – Photoresist Removal System) are still available. These have the option to receive updated configuration software (Windows compatible 07.08.10) and are therefore the ideal replacement equipment.
We gladly provide support in the commissioning of replacement devices.