Plasma Electrolytic Oxidation with Alternating Current and Asymmetric Electrodes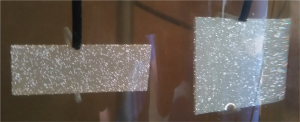 For this project we developed a Plasma Electrolytic Oxidation (PEO) process that facilitates the coating of two light alloy parts simultaneously using alternating current.
The coatings are as homogenous as conventional PEO processes with AC, but with double the process speed.
The project builds on a conventional AC power supply by Aixcon, but adds a superimposed controller that adjusts the current according to the coating thickness.
The process was developed together with Innovent Jena e.V..
Innovent Jena e.V. developed the chemistry and evaluated and tested the coating results, while Aixcon developed the power supply and the superimposed controller system.
The project was presented to a wider audience at the PSE2016 in Garmisch-Partenkirchen. Further information can be found on the poster presentation.
The project was funded by the Federal Ministry for Economic Affairs and Energy through the ZIM funding line.